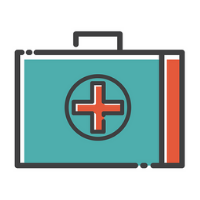 Smarter networking solutions for the modern facility.
The aged care industry is in an era of unprecedented change. An increasingly connected, aging population, paired with the rapid and continuous growth of new technologies is radically transforming the working environment and quality of care for elderly Australians.

At the centre of these changes is the emergence of the connected digital ecosystem. Smart wearables, connected medical equipment, patient and guest entertainment devices, IoT sensors – these are the technologies improving the efficiency of operations and service offerings, while also putting unprecedented demand on legacy network infrastructure. As the aged care industry transitions to these digital-first initiatives, facilities need to ready themselves to face the future and proactively respond to changing circumstances.
The foundation of a modern aged care facility
At Accucom we leverage Aruba's innovative solutions to help aged care facilities remove the barriers to adopting emerging digital trends and embrace the power of next-gen solutions.
Experience-driven networks
With built-in AI-intelligence, location services, and seamless roaming, residents, staff and IT can enjoy an optimal networking experience without sacrificing performance or security.
Endpoint security for sensitive data
Achieve unprecedented visibility and network access control with automated policies and machine learning-based analytics to detect threats while accelerating investigations and response.
IoT-enabled asset tracking
More effectively manage assets, streamline staff efficiencies, and reduce loss with real-time location systems.
Simplify management of multiple facilities
Gain visibility, control and troubleshooting tools needed to fully manage geographically dispersed facilities.
Remote Cloud Management
Stay in control of multiple facilities with simple, cost-effective, wireless, wired and WAN management via one centralised interface.
Accucom and Aruba – your partners in transformative technologies
Accucom is proud to be a long-standing Aruba Gold partner. Our extensive certification, deep technical knowledge and hands-on experience spans three decades and is backed by a number of awards including the 2015 Aruba APAC Partner of the Year, the 2016 Aruba Technical Excellence Award and as a finalist in the CRN Achievement Awards.
Experience the power of Accucom and Aruba
We're known for being incredibly flexible in the design of our high-level solutions and we apply that same approach to our technology delivery. As a trusted Gold Aruba Partner, we are uniquely positioned to support you on your network modernisation journey. To experience the power of Aruba's next-gen solutions first-hand, get in touch today to request a Proof of Concept or speak with a networking specialist.